The Snake 421, aka The Best of the Snake
37 miles, 489 curves, 3 mountains, 1 valley in Tennessee and Virginia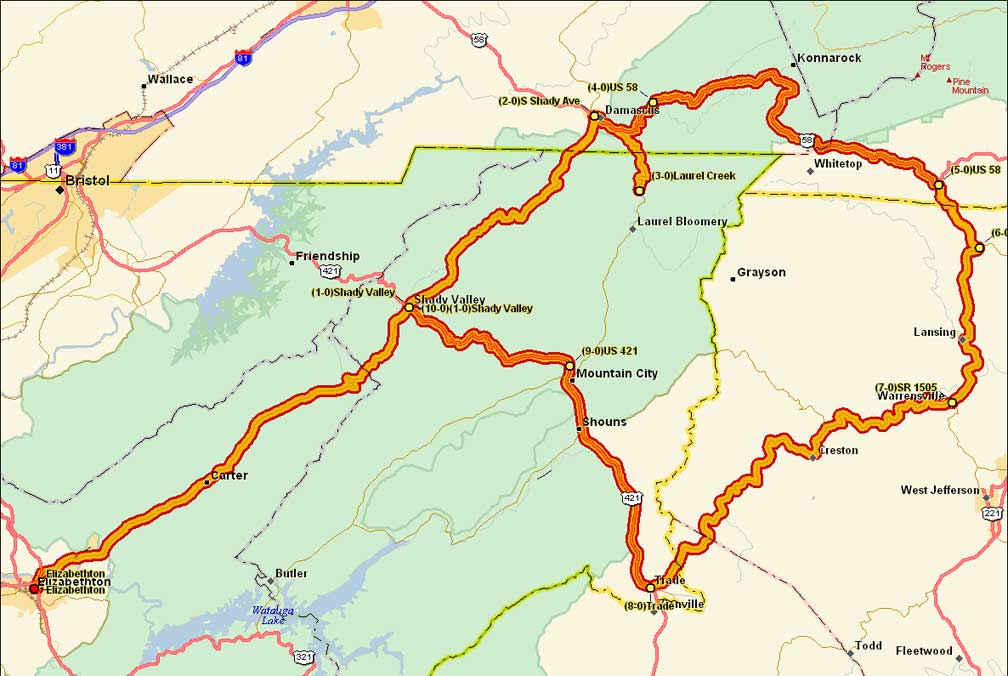 ---
1-Elevation Information
Lowest Elevation Point = 1919'
Highest Elevation Point = 3904'
Average Elevation = 2566'
---
2- Grade Information
Maximum Uphill Grade = 14%
Maximum Downhill Grade = (-9.6%)
Average Grade = 2.9%
---
3- Ride Description
The Snake 421, aka The Best of the Snake, is a loop ride that starts and ends on Hwy 421, just north of Mountain City, Tennessee. You will initially cruise farmland and quickly start the twisting climb across Iron Mountain and into the forest. The road quality is good and there are many challenging curves in the first section of this ride, which is why it is a favorite for experienced riders.
When you exit the forest, you will curve down into beautiful Shady Valley, Tennessee. At the crossroads, sits the Shady Valley Country Store, which has become a famous Motorcycle Destination and a popular spot for a break, to get some food, refuel and get your Snake T-Shirts and memorabilia.
As you start the second section of this ride, you will leave the store on TN 133 and travel toward Damascus, Virginia, experiencing a really nice cruise through this awesome valley that is bordered by Iron Mountain to the east and Holston Mountain to the west. You will soon re-enter a lush forest for a shady ride with sweeping curves. Here you will come to Backbone Rock, which is known as the shortest tunnel in the world. This is an amazing rock formation that is worth stopping to check out. Grab your camera and take a quick hike up the steep trail to the top of the rock formation.
When you leave Backbone Rock, you will soon enter the small town of Damascus, Virginia, where the Virginia Creeper Trail and the Appalachian Trail meet, making it a vortex for hikers, kayakers and bicyclers. Turn right on Hwy 58 to go through this cool town where you can refuel and get some food at several locations.
When you leave the town, you will veer right on TN 91 to head back into Tennessee. This section of the ride is engaging as it travels back into the woods providing a shady cruise with winding curves along a flowing creek. There are several pull offs if you want to stop and wade into the cool and refreshing water.
When you exit the woods you will be winding through a beautiful area known as Laurel Bloomery as you head back towards Mountain City, Tennessee. Be sure to watch for the right turn onto Cold Springs Road to complete the journey. This is a great ending to such a wonderful ride. You will cruise through some beautiful farmland with some sweeping curves until you intersect Hwy 421 which is the end of this great ride.
This ride offers something for everyone, from wide open cruising, to challenging tight curves, to sweeping curves, to big elevation climbs and drops, all in the midst of beautiful natural scenery. You will travel through Cherokee National Forest and Mount Rogers Recreation Area, enjoying great flowing creeks, incredible rock formations, lush forests and huge views. This is a ride you will want to experience.
---
4- Mile by Mile Directions
Mile 00 = Start at the intersection of Old Cold Springs Road and US Hwy 421.
Mile 9.8 = Turn right on TN 133 at the Shady Valley Store.
Mile 19.7 = You are at the famous Backbone Rock.
Mile 21.2 = You are at the Virginia State Line.
Mile 23.1 = You are at the intersection of US Hwy 58 in Damascus. Turn right to go through town.
Mile 24.4 = Turn right onto TN 91.
Mile 25.9 = You are at the Tennessee State Line.
Mile 32.8 = Turn right on Cold Springs Road
Mile 33.4 = Bear left to stay on Cold Springs Road.
Mile 37.3 = You are at the end. You are at intersection of Cold Springs Road and US Hwy 421, which is close to where you began this great ride. Note: You started the ride at Old Cold Springs Road and US Hwy 421 and ended the ride at Cold Springs Road and US Hwy 421.