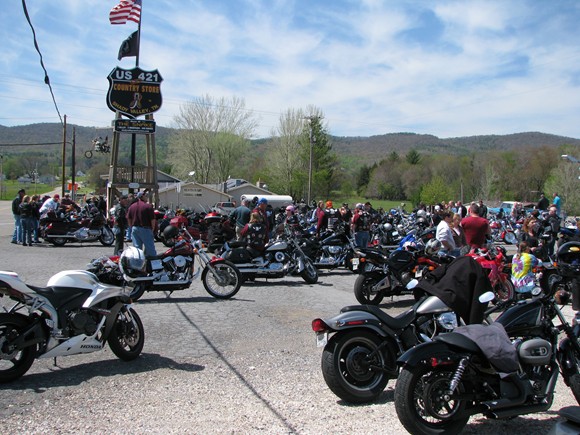 ---
The Shady Valley Country Store
This is a country store located directly on The Snake 421 in Shady Valley, Tennessee, at the intersection of Hwy 421 and Hwy 133. The store was established in 1948 as a community store providing staples to the local population. In the 1990's, as The Snake 421 became known as a great Motorcycle and Sport Car Ride, this store became known as Motorcycle Destination. The newest owners, Daniel an Avery Dugger, purchased the store in 2014 and have done a good job building its statue as a Motorcycle Destination. This is a must stop when traveling The Snake 421.
Link : www.shadyvalleycountrystore.com
---
Backbone Rock
This is billed as the shortest tunnel in the world. It is an incredible rock tunnel formation you will pass through on Hwy 133 near Damascus, Virginia. It is located in the lush National Forest and is a great place to stop and take a short hike up over the tunnel. There is plenty of shade to rest a spell by a flowing creek before going into Damascus.
Link : www.johnsoncountytnchamber.org/backbone-rock
---
Laurel Fork Trail Head
This is a great hiking trail located adjacent to The Snake 421 on Hwy 91 in Laurel Bloomery, Tennessee. It has trail bathroom facilities and is a great shady trail that meanders along a flowing creek where you can wade in the cold mountain water to cool down. Whether you want to take a short hike or just sit on a bench in the shade, this is a beautiful area to do so. It is near the end of the route.
---